Parent and Carer Participation
Our parents play an important part in their child's learning and development. We aim for parents to contribute as fully as possible to the life of our centre. we aim to introduce various committees where parents can become involved such as Eco Committee, Parent Council.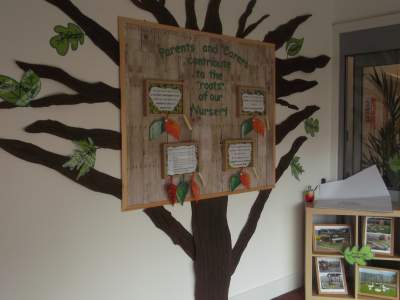 Parent/Carer consultation board

The nursery has a consultation board where we actively look for the thoughts and opinions of our service users. Each month the nursery focuses on an aspect of the nursery they wish to develop. For example this photo was taken when the monthly focus being developed was the outside area.






Parent/Carer Workshops

The centre also aims to run various parent workshops throughout the year covering various topics such as:
Cooking on a budget
Storytelling
Healthy packed lunches
Managing children's behaviour

How you can be involved in the life of our centre?

Being involved within our service does not necessarily mean being involved in a committee there are lots of other ways to become involved such as:
Reading a story
Gardening
Baking
Arts and Crafts
Dance / drama

If you would be interested in being a parent helper please contact the nursery manager. There is no set day or time to be a parent helper it is very much dependant on what time you may have spare. Any parent / carer wishing to help in the nursery would need to carry out a Disclosure check , which the company would pay for.

We hold both informal and formal parent evenings over the year and all parents and carers are encouraged to attend these. These provide a great opportunity for you and your family to come along and speak with your child's key worker.